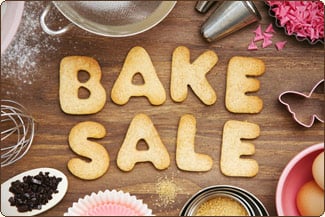 Hello Moms!  Please consider baking something for our MomTime Bake Sale at Montview Church.  This is usually our biggest fundraiser of the year, bringing in around $1000 for MomTime scholarships and our Fall Service Project. We will be selling our baked goods on December 14th from 8am-12pm.
You can make treats at home, you can buy store-bought items and re-wrap them individually, you can contact a bakery to ask for donations, or you can ask your mom/mother-in-law/friend to bake something.  Use this link to indicate what you can bake or donate: http://www.signupgenius.com/go/30e0448a5a69-momtime3
Items should be wrapped in small portions or individually. We will have a selection of clear treat bags, bread molds and ribbon at our November 7th MomTime sesison, Shauna Veen's "Cookie Decorating for the Holidays".
Treats can be sweet or salty – cookies, breads, pies, snack mixes – all are great sellers!  Peanut butter, chocolate and breads (banana, pumpkin,etc) are always a big hit with this crowd.
If you have time to volunteer for the bake sale itself, we will need help setting up (at 8am), pricing the baked goods, selling, and taking down tables at the end (at noon).
If you have questions, contact Haley Figueroa at haleyfig@gmail.com.  Generally baked goods are delivered to the church on the morning of the bake sale or dropped off at Haley's house in Stapleton the day before.  Please contact Haley to let her know what you plan to do so she can be prepared.
DATE: 12/14/2014 (Sun 8:00AM – 12:00PM)
LOCATION: Montview Church Commons